New 2024 and 2025 Itineraries are available now.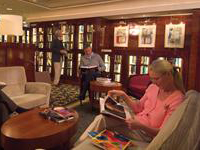 Cunard Cruise Line is a luxurious and renowned cruise line that offers its guests an exceptional experience at sea. With over 180 years of history, Cunard has become synonymous with style, elegance, and sophistication. At Deluxe Cruises, we offer the best prices and services for Cunard's voyages, ensuring our clients have the ultimate cruising experience.
Cunard Cruise Line offers a variety of destinations, ranging from the Caribbean to Australia, Europe to Alaska, and beyond. With Cunard, clients can experience the beauty and diversity of the world from a different perspective. They can explore remote and exotic locations while enjoying the comforts and amenities of a luxurious ship.
One of the most popular destinations with Cunard is Alaska, where guests can enjoy the icy wilderness, gold-rush towns, and indigenous culture. Queen Elizabeth's Alaska voyages provide guests with an unforgettable adventure, where they can witness wildlife and regional inspiration, all while sailing in comfort and style.
Another extraordinary experience with Cunard is the Queen Anne's maiden World Voyage. The ship sails to more than 30 ports on five continents, including iconic locations such as Sydney's Opera House and Dubai's sand dunes. Guests can join the ship for the 107-night voyage or part of the adventure of a lifetime.
Cunard also offers voyages to South America, where guests can choose from a series of shorter itineraries or the unforgettable 78-night journey. The voyage offers delights such as Rio de Janeiro's skyline, Tierra del Fuego, and sailing past Cape Horn in this captivating part of the world.
Cunard's voyages to Australia and New Zealand are also very popular. Guests can witness outstanding natural parks, iconic UNESCO World Heritage Sites, blue seas lapping golden sands, and much more. Selected voyages even call overnight in Auckland and Hobart, while others include a day in Bali.
For those seeking a tropical escape, Cunard offers voyages to the Caribbean on the Queen Mary 2. With year-round hot weather, an abundance of UNESCO World Heritage Sites, and legendary white sandy beaches, a voyage to these paradise islands is the perfect antidote for a busy life.
Cunard's voyages to Japan are also exceptional, featuring highlights such as the neon-lit streets of Tokyo, the natural beauty of Aomori, Kushiro's enchanting wildlife, and Nagasaki's thought-provoking Peace Park.
Finally, Cunard offers voyages to various dazzling destinations across Europe. Guests can choose from voyages to the Mediterranean, the Canary Islands, and coasts of Spain and Portugal, and the Norwegian fjords. They can enjoy days of discovery in port, complemented by relaxing time on board.
At Deluxe Cruises, we offer the best prices and services for Cunard's voyages. We provide exceptional customer service, ensuring our clients have the best experience possible. Our team of travel experts can help clients choose the perfect itinerary and stateroom for their needs, and we offer competitive pricing and value-added amenities.
In conclusion, Cunard Cruise Line offers a unique and unforgettable cruising experience, and Deluxe Cruises provides the best prices and services for those seeking this experience. With a variety of destinations to choose from, guests can explore the world in luxury and style. Book now and embark on your adventure with Cunard Cruise Line.